Luxury Graphic Design – Best Tips for Making Your Logo Shine
Luxury graphic design invokes style, professionalism, beauty, and elegance. It's a design style that instantly gratifies a consumer's need for something upscale.
How do you create a winning luxury brand design?
Stellar luxury graphic design should include a sophisticated color palette, minimalist design, readable fonts, and recognizable emblems such as monograms or luxury patterns. Serif fonts are a popular choice for luxury brands, followed by cursive fonts. Dark hues invoke luxury as well. Incorporating these design elements into a luxury brand's visual identity can create a lasting impression of elegance and exclusivity in the minds of consumers.
This guide to luxury brand design will further differentiate between luxury and standard brand designs. We'll also delve into choosing a color palette and include plenty of tips and examples to inspire your own design choices.
What Makes a Design Look Luxury?
You know luxury graphic design when you see it, but it's sometimes hard to pinpoint what separates these designs from designs made for everyday consumers.
Here are some traits that a luxury brand design often has.
Emblems or Patterns
You'll frequently see fashion houses named after designers who use monogram emblems in their luxury graphic designs.
For example, there's the classic LV emblem for Louis Vuitton or YSL for Yves Saint Laurent.
Sometimes, those monogram emblems can inspire a pattern. Louis Vuitton goods are often repeatedly stamped with the LV pattern, which can recur in the company's graphic design.
Minimalism
By stripping back colors, leaving negative space, and utilizing flat typefaces, luxury design is all about minimalism.
Using fewer elements allows the design to speak for itself. That's how luxury designs have become as iconic as they are!
What Makes a Logo Look Luxury?
The crown jewel of luxury graphic design is undoubtedly the logo. We've all differentiated luxury logos visually, but what does a luxury look boil down to?
The logo will have these characteristics.
Line Work
The inclusion of line work–or detailed, sometimes hand-created designs–gives off an air of affluence. The more involved a logo, the more it costs to have it made.
Even though a computer likely created the design and it wasn't hand-drawn, if it has enough line work, our brains still connect the design with class and elegance.
Upscale Typography
With luxury designs, you're likely to see script or serif fonts.
Cartier embraces a curvy, cursive script font that's still easily readable.
Serif fonts promote an air of authority and prestige, which explains why many luxury brands use them. Everyone from Jimmy Choo to Louis Vuitton, Armani, Prada, Gucci, and Dior relies on a variation on the traditional serif font.
According to logo resource Custom Neon, 71.6 percent of the most successful companies use a sans-serif font.
Intentional Use of Color
When a luxury brand chooses colors for its logo, it's very strategic. Career resource Zippia notes that 95 percent of the top brands use up to two colors in their logos.
Another five percent use three or more colors.
Branding Colors for Luxury Graphic Design
Now that we've begun a discussion of luxury graphic design colors, let's dive deeper.
What kinds of colors represent luxury and appeal to consumers? Here's a full luxury brand color palette.
Black
If you look at enough luxury logos and designs, you'll notice that overwhelmingly, these brands use black whenever possible.
Black is one of the top colors that represent luxury. It's simple, timeless, bold, and effective in conveying design elements.
Dark Hues
Besides black, you're likely to see luxurious brands use other dark hues. Crimson red, navy blue, dark gray, royal blue, and dark brown promote affluence and offer a nice alternative to black.
Gold
Gold is another of those luxury branding colors that set a design apart. It may be used in conjunction with black or with a cream-colored palette for a softer edge. Combining gold with a burnt orange hue injects more life into a design.
Pinks
Although not for every luxury brand, using pinks and reds creates a romantic, passionate vibe. Hues like dusty rose, baby pink, and maroon red invoke the fiery energy of red without being too over-the-top.
Browns
A combination of mid to darker browns gives off an earthy, natural vibe while still sticking with the darker color palette, a trademark of luxury graphic design. It's a nice color palette to experiment with if you want something lighter than black.
Blues
Blue is another luxury color palette you'll see brands incorporate. While Tiffany has the trademark on bright robin's egg blue, other shades of blue you'll frequently see across luxury logos include blue gray, midnight blue, navy blue, and royal blue.
Luxury goods are hardly the only industry using blue. Graphic design program Canva notes that health and beaut and travel brands use blue in their logos the most frequently. Household goods, credit card companies, and computer and electronic brands also favor the hue.
Graphic Design for Luxury Logos – Can't-Miss Tips
Now that you understand what makes a luxury logo, you might feel readier to design your own. These tips will get you started.
Choose an emblem: What do you want your logo to represent? Do you want to go in the monogram direction, or perhaps you want some line work? Selecting your emblem might be the most time-consuming and difficult process of creating a logo, but you're well on your way once you do it.
Select your colors: While there's a wild rainbow of colors out there, to stick within the parameters of what constitutes luxury graphic design, the section above will help you narrow down your choices.
Arrange your elements: Your logo may include only a monogram or perhaps line work with your brand name printed out. You'll next have to determine how you'll organize these elements so they have a natural cohesion.
Split-test the logo: A/B testing will make it far easier to pick your ideal luxury logo. Feel free to keep tweaking the logo from there and then split-test it again.
Luxury Graphic Design – 3 Inspirational Ideas
To wrap up, we've compiled three examples of graphic design for luxury brands.
1. John Masters Organics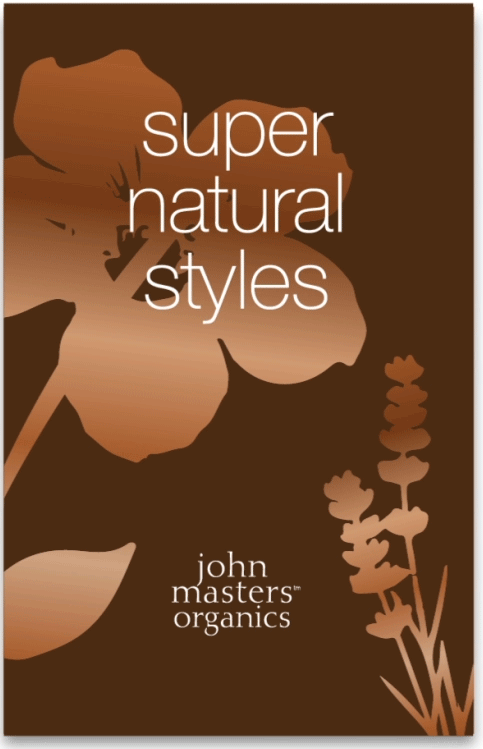 John Masters Organics sells hair, skin, and body products such as cleansers, body wash, masks, serums, and shampoos.
The graphic for the brand focuses on the dedication to natural styles. You'll notice that the design uses a brown color scheme, with lighter to darker shades of brown represented.
There's also plenty of negative space in the ad. Besides the flowers and the typography, the background is one solid color and gets a lot of space to shine.
Speaking of typography, it's kept intentionally simple so the message remains at the forefront.
2. Grand Musee de Parfum Paris
The Grand Musee de Parfum Paris, or the Fragonard Musee de Parfum, is a private museum in France dedicated to perfume. The museum features perfume extract stills, toiletries, and antique perfume containers and bottles.
Such an upscale museum as this naturally has a stronghold on luxury graphic design. Just look at the image above. This museum display uses a posh combination of white and gold to expert effect.
Gold just screams opulence, and with the oversized text accents in that color and the gold hardware on the antique bottles nearby, it's clear you're in a very classy place.
3. High Society Tattoo
As illustrated here, green is a color that works especially well in the luxury sphere. These business cards for the luxury tattoo brand High Society feature an eye-catching emerald hue. The quality of the cardstock also invokes luxury.
Once again, there's the use of gold in the embossed text of the business card. If you received a business card like this, even knowing nothing about the brand, you can immediately tell it's a more upscale service.
4. Insignia
You can still embrace color and create a luxury graphic design worth talking about, as seen here for the luxury company Insignia.
Why this design still gives off a posh feel despite the overabundance of colors has to do with the sizing of the logo. The colors have a more subtle effect since the logo is small.
Insignia also wisely chose to use a purple background for their design rather than black. The dark purple gives off the same type of mysterious, royal air that black would but harbors the logo colors nicely.
Work with a Graphic Design Company Today
If you're seeking professional luxury graphic design services, contact the pros at Mediaboom. Our Connecticut agency has served a myriad of luxury brands like yours.
We can help you create your luxury logo or retool an existing logo for rebranding. With our assistance, you'll have a strong visual brand identity that conveys your luxury status and inspires customers to do more business.

Contact us today to learn more or begin creating your luxury brand design.